Setup for the browser based Endnote Online version
This way your EndNote Online account will be correctly connected with your EndNote Desktop license:
For Windows:
Go to 'Edit > Preferences > Sync'.
Click 'Enable Sync'.
Click 'Sign up'.
For Mac
Go to 'EndNote > Preferences > Sync'.
Click 'Enable Sync'.
Click 'Sign up'.
After you have setup this account you can use this account to sync one of your libraries to Endnote Online.
At the same time you can use this Endnote Online account to sync your (sync) library to other devices you have (iPhone, iPad, Mac, Windows, work pc or home pc), or to share your library with your colleages via 'File > Share'.
EndNote Online is a Web-based service designed to help students and researchers through the process of writing a research paper.
Undergraduate students can organize their references for citing in papers
Professional researchers and graduate students can use EndNote Online as the perfect complement to EndNote and other desktop writing tools, as well as storing references between ISI Web of Knowledge search sessions.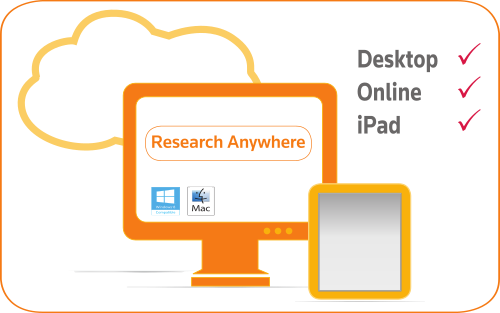 Whether at the library or elsewhere, EndNote Online lets you:
Search ISI Web of Knowledge, PubMed and hundreds of library OPACs directly
Import references from hundreds of online bibliographic databases and organize a library of references in many languages (see notes on Unicode compatibility)
Access functions quickly with the easy-to-use interface
Store up to 10,000 records per EndNote Web account
Track references in multiple groups
Simplify collaboration with colleagues—share EndNote Online groups and view groups shared by others
Edit references—add notes, keywords and more
Use over 3,200 publishing styles to format in-text citations and bibliographies
View up to 50 references per page
Cite While You Write™ in Microsoft Word (requires plug-in) to insert references and format papers instantly
Format papers in other word processors using RTF (rich text format) files
Use EndNote Online toolbars in Microsoft Internet Explorer and Mozilla® to access your reference library in one click, and capture citation data easily (requires plug-in)
Easily transfer references to and from EndNote (EndNote X.0.2 and up). Export/import to previous versions.
Create lists of "favorites" for online connection files, import filters and publishing styles
ISI Web of Knowledge, EndNote, and EndNote Online are designed to work seamlessly together and streamline your research:
ISI Web of Knowledge users can send one or more references to their EndNote Online library in one step—just as they do with EndNote
ISI Web of Knowledge identifies references stored in EndNote Online for future searches
EndNote Online presents users with links to Times Cited, Related Records® and the full record for one-click access to the latest information on a reference article
EndNote Online transfers references directly to EndNote on the desktop
Papers can be cited using both EndNote and EndNote Online, enhancing collaboration among colleagues