EndNote X7.2 released: Share your work with up to 14 colleagues and peers, anywhere!
EndNote X7.2 offers you the possibility to share your entire library with up to 14 other EndNote X7.2 users, no matter where they are. Starting now, you can use unlimited online storage of your references and libraries, letting you share and store as many files and libraries as you need. Start today with library sharing and move to EndNote X7.2. You can purchase an upgrade to EndNote X7 in our shop if you are using EndNote X5 or X6. If you are using an older version of EndNote, you can buy the full version of EndNote X7.
If you are using EndNote X7 already, then you have an advantage. You only have to install the free update to be able to use all the advantages which the new release offers. There are 3 possible ways to install the update:
Start EndNote X7. A splash screen shows with which you can easily download and install the update. (This applies to Windows and Mac users.)
Go to Start>(All) Programs>EndNote>Update EndNote.
Start EndNote X7. Click on the tab at the top of the screen on "Help" > "Check for updates". (This applies to Windows and Mac users.)
Introducing: Library sharing for research collaboration
There are a hundred good reasons to share your research library with colleagues and peers – and now you can.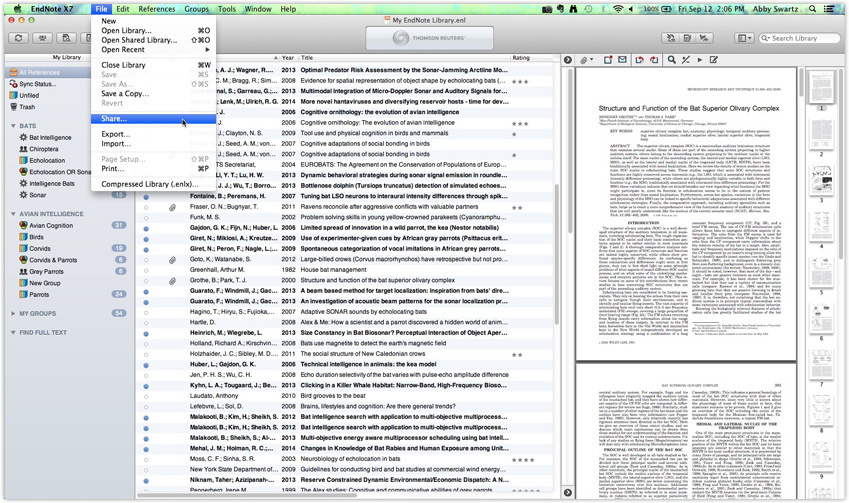 How it works:
You can include anyone who's using EndNote X7 (up to 14 people, plus yourself)
Share your entire EndNote library, including references, PDFs, and annotations
Everyone can add to, annotate and use the library – at the same time
There's no charge for sharing, no library size limit and no charge for unlimited cloud storage
How to share your library or create a new team library
Whether you want to share your existing EndNote library with up to 14 colleagues, or work as a team to create a new library from scratch, it's easy to get started.
Library Sharing
How to join a library someone has shared with you
Once you've accepted the invitation, follow these 3 easy steps:
Create an EndNote account (if you don't have one yet) and connect it to your desktop version of EndNote X7.

In the Preferences menu, select Sync. Follow the instructions to log in or set up a new account.

Once connected, select File > Open Shared Library

 
There's no charge for sharing, no library size limit and no charge for unlimited cloud storage. Start sharing! You can now add to, annotate and use the library, even if others are using it at the same time.
More details on how to share an EndNote research library
Who can I share my library with?
Anyone who has EndNote X7, no matter where they are located. EndNote library sharing is not restricted to people within the same firewall or organization.
How many libraries can I share?
You can share one library from your Mac or Windows desktop. The library that you share will also be the library that you can access online at my.endnote.com or on your iPad using the EndNote for iPad app. There is no limit to the number of libraries that can be shared with you by others.
Can I access a shared library from anywhere?
If you are the one who shared the library, you have access to this library on your desktop, online, or on your iPad. If you have been invited to access someone else's library, you can only access this library from your desktop.
How do I share my library with someone?
Just go to File > Share and enter the email addresses of people to share with (up to 14 total, plus yourself). If you haven't set up your EndNote account, you will be prompted to do this first. Since sharing relies on our sync services, all users accessing the library must have an EndNote online account connected with their desktop version of EndNote X7.
What if I no longer want to share my library?
You can easily control access to your library from your desktop version of EndNote X7. Add or remove individual access by going to File > Share.
EndNote essentials
Makes your literature search fast and productive
Builds an organized research library
Collects full-text PDFs and adds your notes and annotations
Delivers the famously easy Cite While You Write in Microsoft® Word
Creates perfectly formatted bibliographies, endnotes and in-text citations
Loves Mac® and Windows® equally
Keeps it all synced up – on your desktop, online and on the iPad® app
What's new since EndNote X7?
PDF auto import
Allows researchers to identify a folder where PDFs are commonly saved that EndNote will automatically import in their specified library.
Improved PDF naming
Allows researchers to define a friendly naming schema that EndNote will use to present PDFs inside EndNote and when using these files outside EndNote.
Auto groups for PDF folder imports
When using the option to import recursive folders of PDFs, auto-create groups based on the sub-folder names and add those records to those groups.
Citing in PowerPoint
Added support to insert citations, edit citations, and generate a bibliography in PowerPoint.
Category bibliography in CWYW
Provides setting controls to format the bibliography using new category options in CWYW. When CWYW updates the bibliography, it formats it according to those selected settings but also gives the user options for custom categories.
Other new features:
Improved background sync.
Shared group indicators regarding a group's web sharing status.
Improved quick search.
More flexibility for ratings and read/unread.
Reference type updates podcast, press release, interview and other field updates.
Use the same product key and serial number for installation on Mac and Windows.
Advanced help menu with links to online getting started guide and quick reference cards.
Record number added to copy from list in change/move/copy utility.
PDFs imported will be attached to existing records if available, before creating new ones.
Drag-n-drop columns in library display.
Auto program update: when opening EN, program checks for an available update.
For users with more than 1 client install, X7 sync avoids duplicating group sets that users have created in previous versions by matching guids (group unique identifiers) and merging duplicate group sets.
Changed activation deadline to Aug 2013 (X5), Aug 2014 (X6), and Aug 2015 (X7) for consistency to support site license customer loyalty.