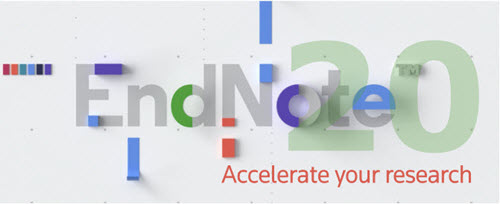 EndNote 20 for Windows released
Important: Based on our 20 years of experience in software, we know that with every major version release there will be almost always some minor updates soon (e.g. version 20.0.1). Therefore, please consider carefully if and when you would like to switch from your current version X9.x (or lower version) to the new EndNote 20. EndNote 20 is only compatible with Windows 10.x (or higher). We are expecting the release of EndNote 20 for Mac later in December.
When you open an existing library in X9.3 and later, it will create a converted version for use with this new database engine. The original library will not be changed, so you can continue using it with X9.2 or earlier. Alternatively, use Sync to move your data across systems and versions.
October 29, 2020-- EndNote 20, Accelerate your Research
With the release of EndNote 20, you can save time, stay organized, collaborate with colleagues and get published.
EndNote 20 can help you accelerate your research
As a researcher, you're constantly juggling different roles and demands on your time.
Write Faster and save time
Insert in-text citations while simultaneously creating a bibliography with the Cite While You Write feature in Microsoft® Word.
Research Better
Use tools that find PDFs for you throughout your search process. Then, easily read, review, annotate and search PDFs in your library.
Stay Organized
Create rules to automatically organize references as you work. And, use the new Tabs feature for easier multitasking.
Collaborate Easier
Easily collaborate across geographic boundaries. Share some or all of your library and set permissions for access.
Get Published
Match your paper with relevant, reputable journals using Manuscript Matcher.
Work From Anywhere
Access your research anytime, anywhere from the cloud. Move seamlessly between online and the desktop and iPhone and iPad applications.