The solution to plagiarism
Plagiarism detection made simple. An educational support system focusing on anti-plagiarism.
URKUND is an automatic text-recognition system made for detecting, preventing and handling plagiarism, no matter language. URKUND is passionate about helping schools, universities and corporations to encourage original writing and has done so for almost 20 years.
The system can either be used stand-alone or integrated in your existing learning management system (LMS).
Preventive effect
By employing URKUND as a part of your educational workflow, you are sending a clear signal that plagiarism is unacceptable and that the resources to address the problem are in place. The knowledge that URKUND checks every submitted document indiscriminately creates a preventive and cautionary effect. Students know that during their whole educational cycle their documents will be checked by URKUND.
URKUND's source areas
Automated and scalable software with both significant public and proprietary sources
URKUND works with an ever expanding number of documents and sources. Roughly they can be divided into sources found on the Internet, articles published in academic journals and previously submitted documents.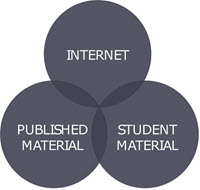 This includes everything from Wikipedia to national repositories of theses. We believe in covering the source areas that your students might use as research material while taking into account the misuse of such sources.
Users in over 70 countries
Urkund is a dynamic product with users in over 70 countries across the globe.